The English version follows.
Narration Collaborative
Tout au long de l'année, Remix Place a mis en place des ateliers de création avec différents collectifs d'habitant.es. Ateliers d'écriture, création de conte, formation à la criée publique, exploration sensitive de l'espace public ou encore exploration du langage corporel se sont invités au processus d'enquête et de création à partir des lieux de la région.
Processus : Mêler les arts à la recherche est une démarche en vogue. Alors que les sciences et les arts ont longtemps été opposés (l'un étant sensée répondre au rationnel et à l'objectivable et l'autre à l'émotionnel ou au beau), de plus en plus de courants revendiquent la pertinence de les associer pour dire le monde. En effet loin d'être des régimes de connaissances opposés, l'approche artistique et l'enquête scientifique se complètent et parfois visent le même but. Les sciences humaines et sociales disposent de nombreux outils pour analyser le terrain et accéder à des paroles d'habitant.es notamment, mais l'art apporte des dimensions essentielles en termes d'accès au récit de soi, à l'expression de sa transformation ou de sa participation au monde en train de se faire. Au travers des objets de création, ce ne sont pas seulement des nouvelles données de recherche qui apparaissent mais aussi de nouveaux horizons relationnels, des enjeux de reconnaissance et de volontés à s'engager. Participer à une enquête (en tant que personne interviewée) ou participer à une création collective n'a pas les mêmes effets sur le lieu dans lequel on vit. Par exemple, créer des histoires ou des criés publiques ont commencé à transformer les lieux et œuvrer dans l'optique d'une réappropriation de l'espace. C'est l'alliance des deux (interview et création) qui nous a semblé importante pour permettre des rencontres, pérenniser les synergies et contribuer à ce que des citoyen.nes s'emparent littéralement du dessin des lieux.
Participant.es : les techniques de médiation artistique employées se veulent tout public et ne demandent aucune formation ou sensibilité préalables. Le principe est d'explorer collectivement de nouvelles manières de se raconter, de découvrir ce que l'on a à dire, et de créer à mi-chemin entre ce que l'on connait et ce que l'on emprunte à la force de l'imaginaire. Des groupes de personnes âgées à la résidence Stéphane Hessel ont participé à des ateliers mensuels ainsi qu'un groupe d'enfants du conseil municipal de Villerupt. Le but étant aussi la rencontre, des ateliers intergénérationnels ont été mis en place, notamment dans le cadre des formations à la criée publique. De manière plus ponctuelle, les agora café qui se sont déplacées sur le territoire d'ESCH 2022 ont aussi permis des créations in situ : dessins ; diorama ; atelier de poésie et création de conte.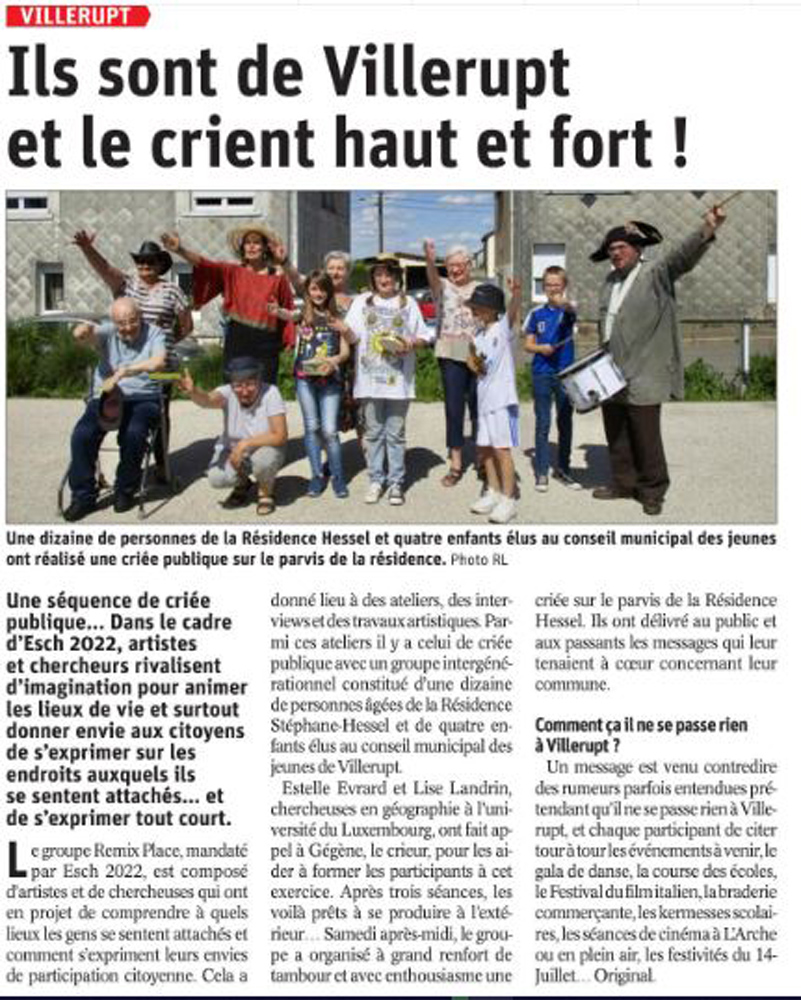 Créations :
L'histoire intitulée « L'auberge de la seconde jeunesse » est l'une des créations écrite et sonore disponible à la suite de cette aventure. Créée par le collectif de la résidence Hessel le conte s'est façonné à partir des récits mis en commun, d'ateliers d'écriture à partir d'objets ou de cartographie participative. Œuvre collective, elle laisse place aux styles d'écriture et aux voix de chacun.e à la manière d'un patchwork. Si elle constitue une fiction, l'œuvre se veut réaliste en évoquant des espaces vécus, rêvés ou à venir.
Criées publiques. En collaboration avec l'artiste Boris Aime… un groupe intergénérationnel s'est essayé à la criée publique pour renouer avec d'anciennes manières de dire sa parole dans l'espace public. Les messages ont été créés sur la base d'exercice d'écriture et les ateliers ont aidé le groupe à construire un personnage pour porter la voix.
Histoire illustrée Jasmine l'intrépide : création in situ lors du passage de l'agora café à Micheville, ce conte est l'œuvre de trois enfants qui se sont associés librement pour mettre en commun leurs imaginaires.
Une série de créations poétiques ou cartographiques complètent la démarche et se retrouvent notamment dans l'édition d'une série de cartes postales.
Lire "L'auberge de la seconde jeunesse," une histoire collaborative écrite par les résidentes de Stéphane Hessel.
Ecoutez "L'auberge de la seconde jeunesse" lue par son collectif de création :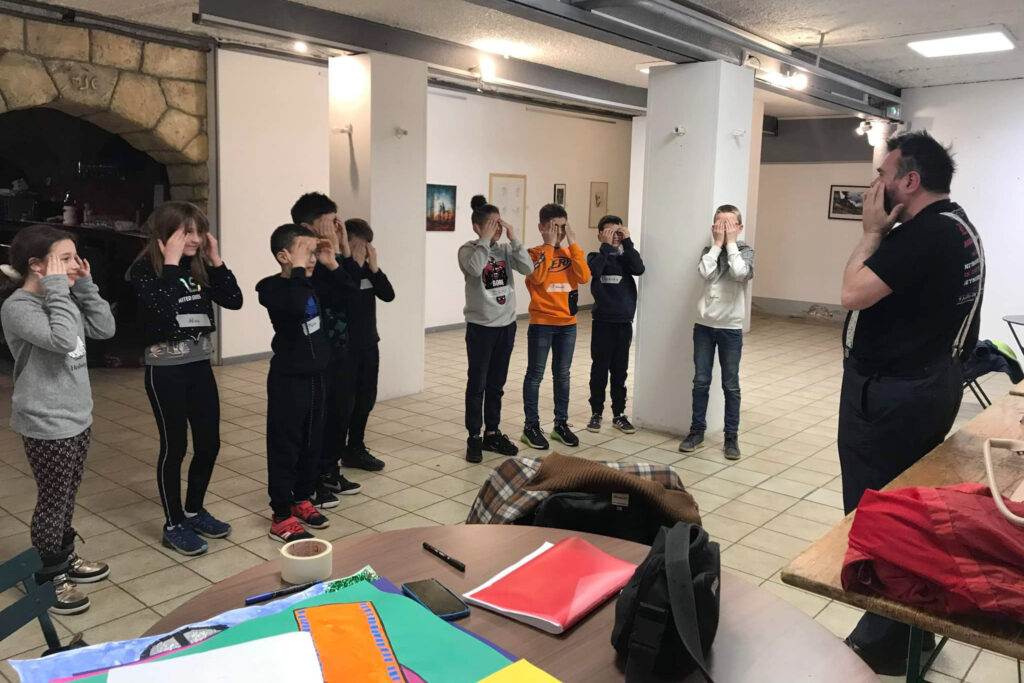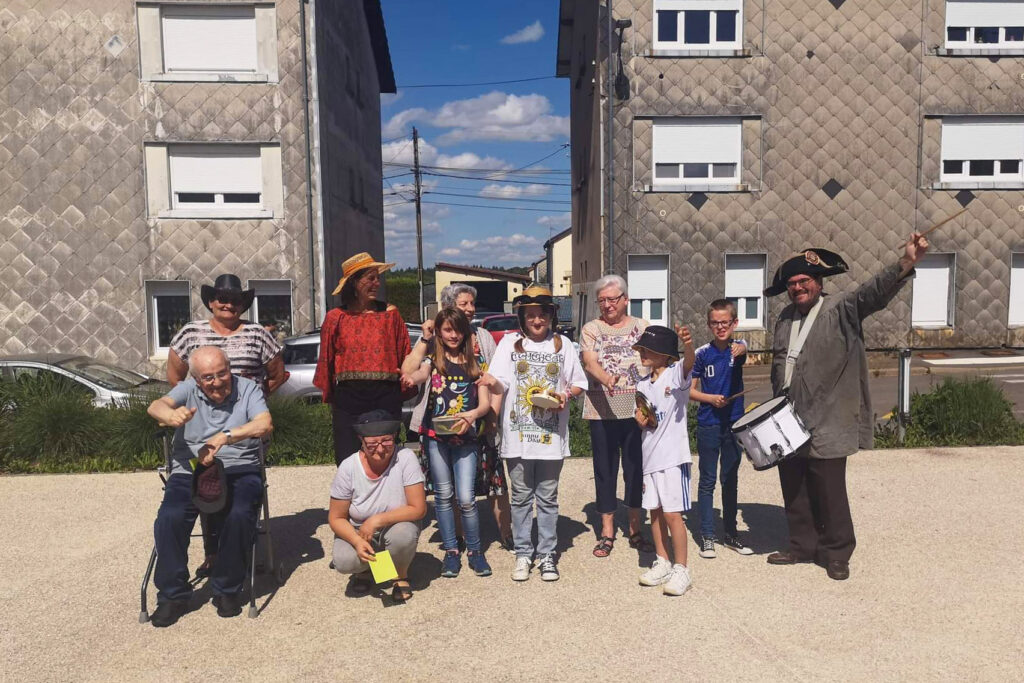 ---
Collaborative Storytelling
Throughout the year, Remix Place has set up creative workshops with residents of the Alzette-Belval region. In these workshops, participants investigated the region through creative writing, storytelling, training as town criers, the sensory exploration of the public space, and examination through body language.
Process: Mixing the arts with research is a an important approach. While the sciences and the arts have supposedly long-been opposed (one responding to the rational and the objectifiable and the other to the emotional or the beautiful), increasing numbers of artists and scientists advocate for combining the disciplines to better engage with the world. Indeed, far from being opposed knowledge regimes, artistic approaches and scientific investigations complement each other and sometimes aim at the same goal. The human and social sciences have many tools to analyze the world and to access the words of inhabitants in particular, but art brings essential dimensions, for example, in terms of access to the narrative of oneself, to the expression of one's transformation or of one's participation in the world in the making. Through the creation, they are not only new data of research which appear but also a pathway for participation. Participating in a survey (as an interviewee) or participating in a collective creation does not have the same effects on the place in which one lives. Create a story or town crier as we did for instance in Villerupt is already an act toward transformation and reappropriation of places. It is the combination of the two (interview and creation) that seemed important to us in order to allow encounters, to perpetuate synergies, and to contribute to the fact that citizens literally take possession of the design of the place.
Participants: We employ techniques of artistic mediation that are intended for all audiences and do not require any prior training The principle is to collectively explore new ways of telling stories, to discover what we have to say, and to create halfway between what we know and what we imagine. Groups of senior citizens at the Stéphane Hessel residence and children from the Villerupt municipal council have participated in monthly workshops. As the goal is also to meet people, intergenerational workshops have been set up, notably within the framework of the training sessions for town criers. On a more ad hoc basis, our Agora Cafés that moved around the ESCH 2022 territory also allowed for in situ creations: drawings, dioramas, poetry workshops, and storytelling.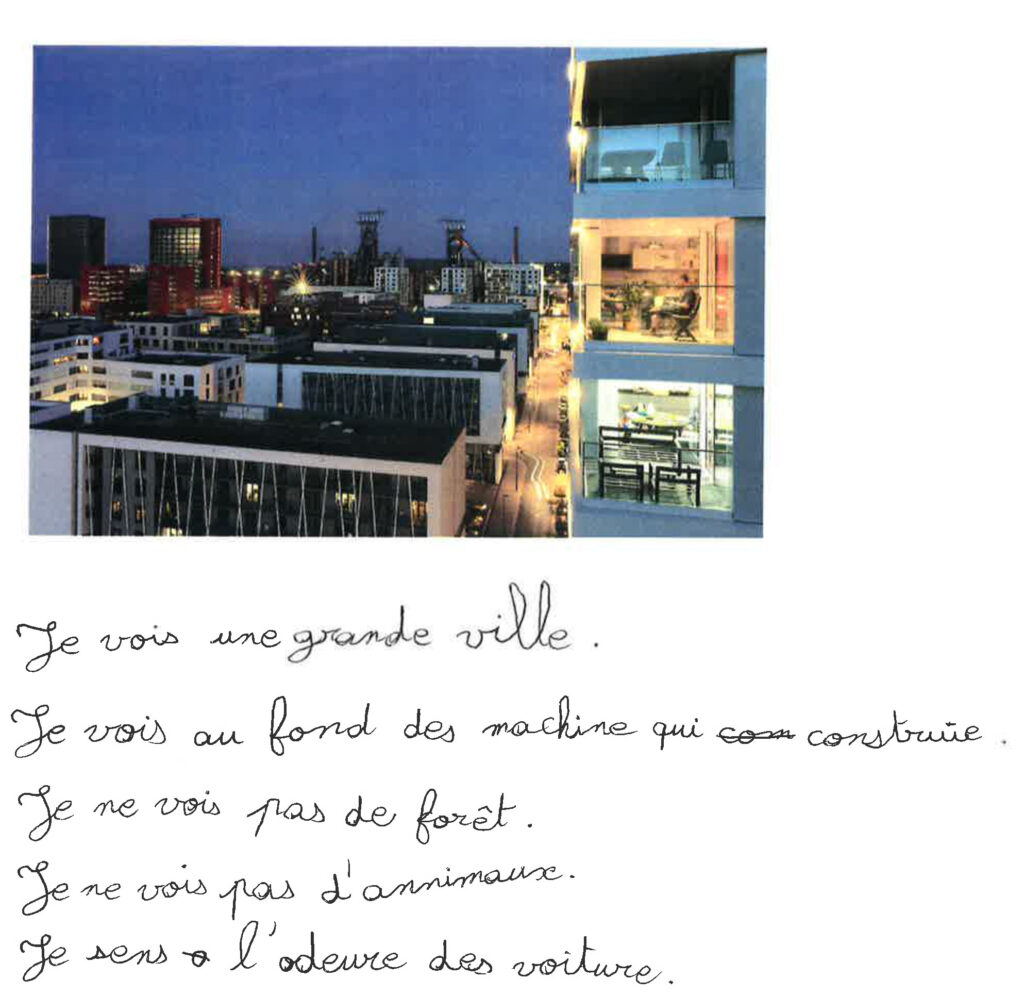 Creations:
The story entitled "The Inn of Second Youth" is one of the written and sound creations available following this adventure. Created by the collective of the Hessel residence, the tale was shaped from the stories shared by residents, writing workshops that used objects as prompts, and participatory mapping. A collective work, it leaves room for the writing styles and voices of each person in the manner of a patchwork. If it constitutes a fiction, the work wants to be realistic by evoking lived, dreamed or future spaces.
Criée publique. In collaboration with the artist Boris Aime, an intergenerational group tried the practice of the town crier in order to revive old ways of speaking in the public space. The messages were created through writing exercises and workshops helped the group to build a characters they could inhabit while performing.
The Illustrated story of Jasmine l'intrépide: created in situ during the Agora Café in Micheville, this tale is the work of three children who created their story through free association.
A series of poetic or cartographic creations complete the process, some of which have been turn into postcards.
Read "L'Auberge de la seconde Jeunesse," a story co-authored by residents of Résidence Stéphane Hessel (in French).
Listen to residents of Résidence Stéphane Hessel read their collaborative story, "L'Auberge de la seconde Jeunesse" (in French):