An English version of this post follows the original French version.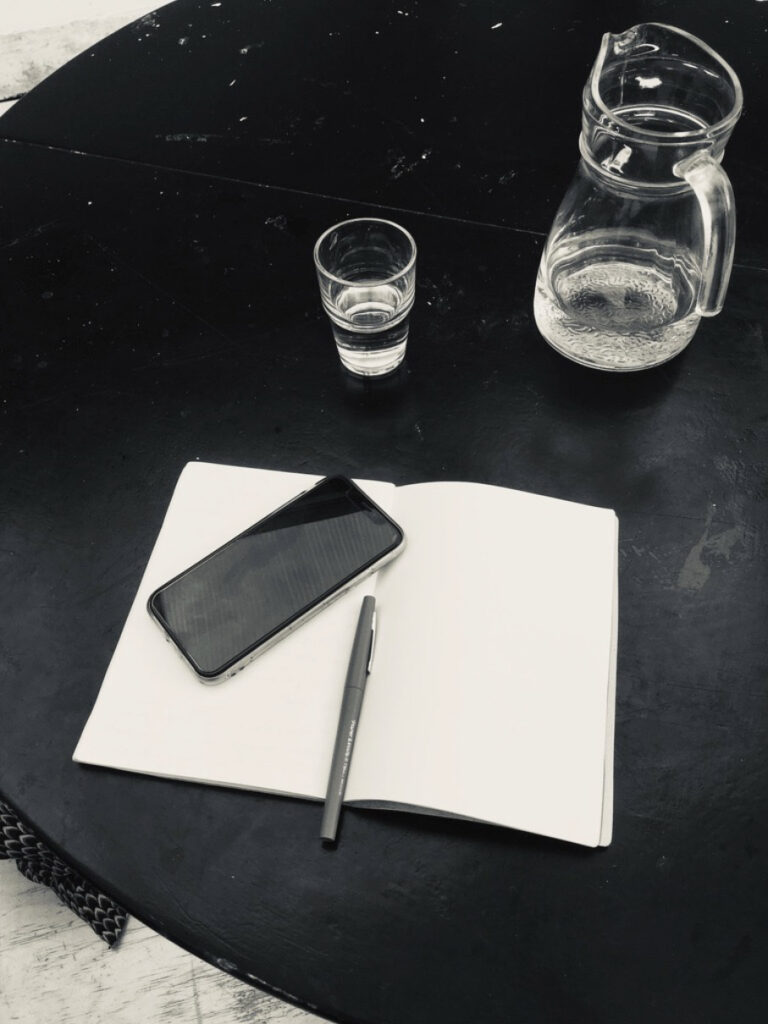 Contes et récits de vie. Un travail avec Clara Genoun, 17-18-19 Mars 2023, La Guillotine, Paris
« Choisissez une illustration, prenez un temps pour vous et partagez au groupe comment cette peinture dit quelque chose de vous ».
C'est de cette manière que débute la formation « conte et récit de vie » avec Clara Genoun de la Compagnie des Gens qui content. Nous sommes 14 personnes, conteuses et conteurs, amateurs et professionnels mélangés. Chaque personne est venue avec une « matière » : un récit de vie collecté, enregistré, récolté auprès d'une personne de notre famille, d'une personne inconnue, issu d'une rencontre ou même d'un morceau de sa propre vie. Certaines personnes ont des enregistrements sonores de ces récits, d'autres des textes, d'autres des photos, d'autres des objets. Au fil de deux journées intenses, le groupe échange sur sa matière. Le travail consiste d'abord à se demander : pourquoi j'ai envie de raconter ces morceaux de vie ? Pourquoi ces récits me parlent, pourquoi ils me touchent, pourquoi j'ai envie de les partager, qu'est-ce qu'ils disent de moi, de mon rapport au monde, et pourquoi ils me semblent important d'en faire un objet d'écoute de récit ? 
Alors que tout le monde dans cette formation venait avec l'envie de parler « des autres », l'invitation a d'abord été réflexive, pour apprendre à se sonder. De fait, on ne peut pas commencer à raconter une histoire si on ne s'interroge pas d'abord sur nos motivations pour la partager.
C'est dans cette relation ténue entre moi et l'autre, le récit singulier et le récit universel, le besoin d'intimité avec une rencontre et le désir de la partager au grand jour que nous travaillons d'abord. In fine, en valorisant les techniques d'improvisation collectives, chaque personne a été en mesure de proposer une courte scène de conte (10 minutes) à partir de sa matière en guise de restitution du travail mené sur le weekend.
« Je ne sais pas quoi dire. Tu peux venir chez moi, mais je n'ai pas grand-chose d'intéressant à raconter. Ici c'était les cités castor comme on les appelait. Les ouvriers arrivaient dans ces maisons, elles n'étaient pas complètement finies, il fallait terminer les travaux soi-même. C'est pour ça que ceux qui travaillaient à Aubrives, on les appelait les castors. C'est sûr, l'usine était partout. Mais tu sais, les 3 huit c'est vrai pour les gars qui allaient à l'usine, mais les femmes elles, elles avaient 4 huit : les enfants, la lessive, la cuisine, l'école, les course, les chants, la comptabilité, le ménage… y'a pas vraiment d'alarme qui t'indique quand ça s'arrête. Je me souviens, le lundi c'était le jour de la lessive. Ici y'avait pas de lavoirs, il fallait de l'eau très chaude pour laver les bleus de travail. Ma mère, elle faisait bouillir l'eau, elle prenait un grand bâton pour touiller sans se brûler, puis elle essorait les vêtements avec un grand rouleau compresseur qui ressemble à une machine à pâtes. Elle mettait le linge à sécher dehors, mais parfois il gelait sur le fil. Je me souviens, le lundi c'était aussi le jour des frites. Je ne sais pas pourquoi c'était comme ça, le jour de la lessive, c'était le jour des frites ».
Voici le début d'un conte élaboré à partir de deux récits récoltés à Villerupt à l'été 2021. Il nous raconte la part invisibilisé du travail de reproduction sociale : celui qui se passait dans les coulisses de la sidérurgie. Derrière les hauts fourneaux, il y a les petits fourneaux, les petits plats, les soins quotidiens, les gerçures, les espoirs, le courage et les voix de femmes, inscrites dans une lutte non médiatisée. Elles n'ont pas l'impressions qu'elles « savent » parce que l'Histoire écrite avec son grand H ne fait pas de place à ces expériences du monde. Tout se passe sans éclat, sans haine, sans bruit et pourtant c'est un univers de sens qui s'éveille quand on parvient à les écouter.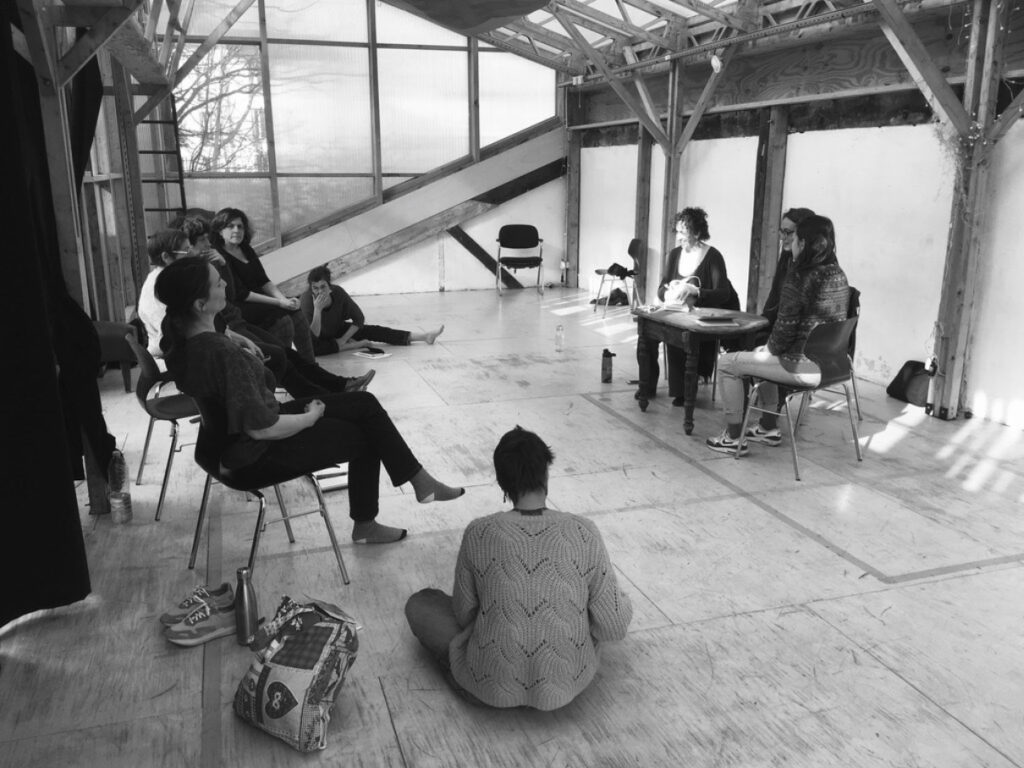 La formation « Conte et Récit de vie » a permis de donner vie à un premier jet d'histoires contées à partir d'une récolte de terrain menée par des géographes (Lise Landrin, Estelle Evrard) en Lorraine et au Luxembourg dans le cadre de la capitale européenne de la culture Esch 2022. Cette matière a fait l'objet de podcasts, d'écriture d'articles, mais une nouvelle piste s'ouvre : ces témoignages peuvent aussi rencontrer le conte. Trouver la justesse entre le récit véridique et la parole libre est un travail de conteuse. Emprunter à l'imaginaire, mélanger des personnages qui ne se connaissent pas, trouver un langage symbolique qui les réunit se fait au profit d'une grande histoire qui répare l'invisibilité de certaines vies. Le conte est un art où peuvent se rencontrer le banal du quotidien et l'extraordinaire du fantastique.
C'est un art du récit qui nous confirme que « toute vie racontée est exemplaire » (Marguerite Yourcenar).
Merci à Clara Genoun pour sa pédagogie exemplaire, merci au groupe pour sa confiance et le travail collaboratif.
---
Storytelling, tales and life stories: A workshop with Clara Genoun, March 17-19, 2023 (La Guillotine, Paris)
"Choose an illustration, take some time for yourself and share with the group how this painting says something about you."
This is how the "storytelling and life story" training with Clara Genoun from the Compagnie des Gens qui content begins. We are 14 people, storytellers, professionals and new comers. Each person brought a "material": a life story collected, recorded, gathered from a person of our family, from an unknown person, from an encounter or even from a piece of their own life. Some people have sound recordings of these stories, others texts, others photos, others objects. Over the course of two intense days, the group exchanges on its material. The work consists first of all in asking ourselves: why do I want to tell these pieces of life? Why do these stories speak to me, why do they touch me, why do I want to share them, what do they say about me, about my relationship to the world, and why do I think it is important to make them an object for listening to stories?
While everyone in this training came with the desire to talk about "others", the invitation was first of all reflexive, to learn to probe oneself. In fact, we cannot begin to tell a story if we do not first question our motivations for sharing it.
We opened the work with a tenuous relationship between me and the other, the singular narrative and the universal, the need for intimacy with an encounter and the desire to share it to all. In fine, by valuing collective improvisation techniques, each person was able to propose a short story scene (10 minutes) from their material as a restitution of the work done during the weekend.
"I don't know what to say. You can come to my house, but I don't have much to say. Here were the beaver houses, as they were called. The workers arrived in these houses, they were not completely finished, you had to finish the work yourself. That's why those who worked in Aubrives were called beavers. Of course, the factory was everywhere. But you know, the three shifts were true for the guys who went to the factory, but the women had four shifts: the children, the laundry, the cooking, the school, the errands, the singing, the accounting, the housework… there wasn't really an alarm that told you when it was over. I remember Monday was laundry day. Here there were no laundries, you needed very hot water to wash the overalls. My mother boiled the water, she took a big stick to stir it without burning herself, then she wrung out the clothes with a big roller that looked like a pasta machine. She would put the clothes out to dry, but sometimes they would freeze on the line. I remember Monday was also French fry day. I don't know why it was like that, laundry day was French fry day."
Here is the beginning of a tale elaborated from two stories collected in Villerupt in the summer of 2021. It tells us about the unseen part of the work of social reproduction: the one that took place behind the scenes in the steel industry. Behind the blast furnaces, there are the small furnaces, the small dishes, the daily care, the chapping, the hopes, the courage and the voices of women, registered in an non mediatized struggle. They don't have the impression that they "know" because History written with a capital H doesn't make room for these experiences of the world. Everything happens without glare, without hatred, without noise and yet it is a universe of meaning that awakens when we manage to listen to them.
The "Storytelling and Life Stories" training course gave life to a first draft of stories told from a fieldwork carried out by geographers (Lise Landrin, Estelle Evrard) in Lorraine and in Luxembourg in the framework of the European Capital of Culture Esch 2022. This material has been the subject of podcasts and articles, but a new avenue is opening up: these testimonies can also be used in storytelling. Finding the right balance between truthful account and free speech is a storyteller's job. Borrowing from the imagination, mixing characters who do not know each other, finding a symbolic language that brings them together is done for the benefit of a great story that repairs the invisibility of certain lives. The tale is an art where the banal of the everyday and the extraordinary of the fantastic can meet.
It is an art of storytelling that confirms that "every life told is exemplary" (Marguerite Yourcenar).
Thank you to Clara Genoun for her exemplary pedagogy, thank you to the group for their trust and collaborative work.